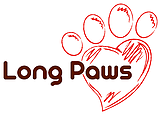 The Story of Long Paws
Ever felt that everything you find for your pet looks the same as the last time you looked. That's how we felt, which is why we launched Long Paws. We decided that we would find and create things for your dogs that weren't run-of-the-mill. There was no point trying to do what everyone else does. We focus our time on resolving problems and on coming up with ideas that make a difference to you and your pets. The type of things you see and think, "I haven't seen that before - I need one of those".
We've spent a lot of time refining our range and ensuring we can offer products that will appeal to a wide range of pet owners. The products we have designed or selected are intended to be enjoyed by pets and their owners, and will undoubtedly make pet owners' lives easier. We have a unique and practical range of products that we are sure you will be impressed with. Quality is of key importance to us, and we are very proud of what we have designed.
Our business is designing, manufacturing and distributing pet accessories. We are based in the UK, and we sell to companies across Europe, Scandinavia, the Far East, the Middle East, the US and Australia.

Coconut Blush was established at home in 2005 by Jane Malcolm.
At the time, her two young children were suffering from frequent bouts of eczema.
No matter what time of year, they had itchy, inflammed & sore patches of skin which proved very difficult to get rid of. GP'S provided steriod creams to apply to skin and greasy emollients for pouring into the bath; both of which helped, but Jane didn't want to use.
After months of battling along with prescribed chemical treatments Jane decided to make a batch of natural cold-processed soap. She had researched the benefits of natural products and decided it was time to try making them herself. The results were amazing. As with regular soaps, there was no dryness or tight feeling to skin. Skin felt much softer and as well as cleansing, the soap moisturised too. Only a few weeks later, she decided to begin making natural soaps as a business, at home.
Jane are now 11 years into her business and has created an established, award winning range of products without harsh chemicals. Everything we make is Paraben & SLS – free with no artificial fragrance. All of our products are made to naturally cleanse & condition skin & hair. Jane has now diversified into pet care products and The Canine Collection is very proud to be one of her stockists.
After giving up my job as a pastry chef, initially to become a carer for my mother, I am now the proud owner of Wellybix, a thriving cottage industry making dog treats! I hadn't anticipated doing this at all, it just happened over night!
My business had its grounding Christmas 2012 when I decided to bake some biscuits for my Jack Russell, Welly. It wasn't long before I began supplying the local hotel and holiday cottages with biscuits to give to clients who brought their pets on holiday.
Spurred on by the initial success, I set about formalising my business, coming up with the name Wellybix after my Jack Russell Welly-Bob and sending the biscuits off to a veterinary laboratory for complete nutritional analysis.
Two-year-old Welly does his bit by ensuring baking standards are met - he is my chief tester. He waits for each batch to come out of the oven and makes sure they are up to scratch!

Sweet William Designs produces beautiful homewares and gifts. The company is based in Greenwich, London and was set up in 2009 by Emma Wood who decided after 10 years of working in the City it was time to pursue a childhood love of pottery instead.
The ranges are based around the most important things in life - family, football, love, tea & cake, weddings and most importantly our four legged friends!
The recent success of the Mischievous Mutts range has led to the company diversifying into organic cotton aprons, tea towels, cufflinks, dog tags and greeting cards. All made to the highest standard you have come to expect from Sweet William.
Emma's adorable 11 year old Black Labrador William is the mascot of Sweet William. He inspired the entire Mutts range. Besides the responsibilities of being a muse he spends his days keeping the Sweet William girls in order and testing all the new products.
We personally check and pack every single order we send. We never send an item unless we would be delighted to receive it ourselves so you can always be assured of the quality and service you will receive from Sweet William. We hope you enjoy shopping with us!